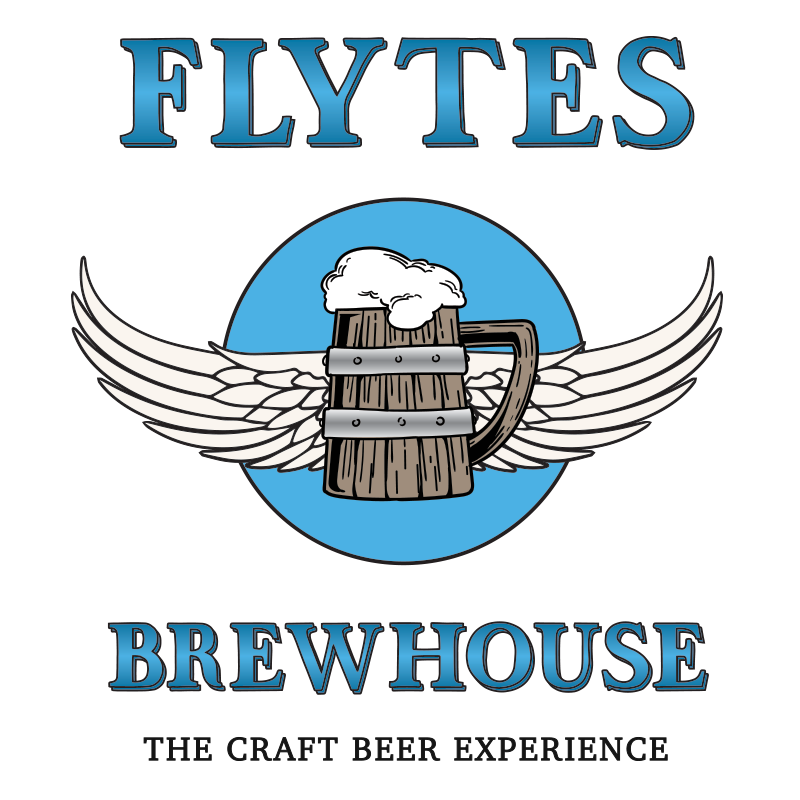 OUR STORY
Welcome!
We're so glad you're here, so let's talk beer. Great beer. Our beer.
As Cheatham County's and the Town of Pleasant View's first production brewery, Flytes Brewhouse mission? We offer a unique brewery and tasting room experience for all levels of beer-lovers, from novice to the most serious craft beer aficionado. (Note: We aren't calling this person a "beer snob.")
Our oh-so-friendly staff will make you feel right at home and happily walk you through our dizzying array of 20-tap lineup of true artisan hand-crafted beers. We serve tasting "flytes" and beer by the glass, plus you can grab a 32-ounce canned crowler or 64-ounce growler of any of our draft beers to take home. We know, we know, that drive will be excruciating, but please wait until you get in your front door before you indulge.
About Us
Flytes Brewhouse is proudly owned and managed by John and Patricia (Trish) Nelson. John is a veteran of the United States Marine Corps and he's also owned his aircraft fabrication business for 21 years — hence "Flytes"!
John began brewing beer in 1995 while in the Marines and stationed in San Diego. Trish worked in banking for 31 years, retiring at the senior vice president level, then consulting for the last seven years. A native of Michigan, she yearned for more than the corporate life, so early in 2018, she and John made one very big decision. They moved from the West Coast with one goal top of mind: opening this brewery.
You'd better like it or else. (Just kidding.)
So here we are. We think our aviation theme helps Flytes take off as a fun gathering place. We love when our guests strike up conversations — please don't strike our other guests — with the people sitting next to them. How about right now?
Destination Beer Club
We feel beer club should be more than a club, it should be a destination.  Our 3 times a year event showcases some of the best beers from around the nation, along with scrumptious and appropriate food pairings from your favorite local caters. Price of membership includes, swag, 20% off all full size pours every Tuesday and 6 (16 oz) cans from the designated categories tasted that night and 20% off all merchandise the night of the event:
Hop Too It: IPAs & Pale Ales
Dark Side:  Stouts & Porters
Belly Up: Ambers and Blondes
Beer club is full at this time. There is a waiting list so sign up at the brewery.
Entertainment
On Wednesday nights we play Brews & Bingo where prizes are awarded to all winners! Thursdays is trivia hosted by Challenge Entertainment NW TN. We also have all kinds of board and card games to play, then enjoy live entertainment on Friday or Saturday nights. Can't wait to see you at Flytes Brewhouse! Oh, and why not bring a friend?
LOCAL EATERIES
– WE ENCOURAGE OUR GUESTS TO SHOP THE LOCAL EATERIES FOR 'TAKE-OUT' AND 'DINE-IN' WITH US AT OUR BREWHOUSE –
Guadalajara Mexican Grill
If you love authentic Mexican cuisine that gets the taste buds going and lets the appetite run wild, then you'll enjoy the Guadalajara Grill: . 262 Village Square, Pleasant View, TN, 37146: (615) 746-0776 DOWNLOAD THE MENU
Chris' Pizza Village
For those who seek the best in hand-tossed pizza, pasta, sub sandwiches and more: Chris' Pizza Village is locally owned and operated, and has a long-standing reputation for high-quality, real ingredients and excellent flavor: 244 Village Square, Suite 100, Pleasant View, TN, 37146: (615) 746-5556 DOWNLOAD THE MENU
Swezey's
Swezey's is a full-service restaurant and pub. Their fare includes a unique take on appetizers, subs, sandwiches, salads, burgers, and they feature hand-cut fries: 254 Village Square, Suite 100, Pleasant View, TN, 37146: (615) 398-5222 DOWNLOAD THE MENU
Kuramoto Japanese Food
Atmosphere, creativity, and variety are keys to a great Japanese restaurant. The crew at Kuramoto has captured the true essence of Japanese culture and cuisine in every way: 248 Centre Street, Suite 100. Pleasant View, TN, 37146: (615) 746-8869 Mon.-Sun., 10:30 a.m. – 10:30 p.m.
NEWS & UPCOMING EVENTS
– Please check our Facebook Page or Instagram for upcoming events –
We are excited to announce that we have collaborated with The Cadillac Three, a Nashville based country band on a new beer.
A Flytes Brewhouse and The Cadillac Three Collaboration Beer. American Honey Amber Ale, brewed with Cascade Hops and honey, giving it smoothness and complexity, it comes in at an easy drinking 5.5% ABV.
THE CADILLAC THREE (pictured below) prove they are Nashville's most versatile band – spending their formative years playing music together in garages before graduating to sold-out venues in the UK/Europe and being added to major festival lineups.